Sponsored slots
Servers with sponsored slots always appear at the top of the site's lists. This includes the homepage, the complete server list, relevant gamemode lists, supported version lists, "type" lists that match the server and all the appropriate "Similar Servers" recommendation lists.
All this exposure results in lots of new players. Here's what a sponsored slot will do for you:
This is real data gathered over the last 15 days from our sponsored servers and updated in real time:
Data for May 26 may be incomplete. Past figures are not indicative of future performance. IP copies do not equal joins.
Website Traffic:
To learn more about the website's stats & traffic trends, join our Discord Server! We regularly post updates on everything that's happening with fresh and up-to-date numbers. We'll be happy to answer any additional questions as well.
What server owners have to say: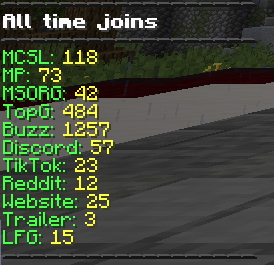 We regularly ask server owners for reviews on Trustpilot. Check them out!
Get more players!
Take the first step into creating the next Hypixel.
Promote your server to thousands of players, looking for one just like yours - Get a sponsored slot now!
No auctions are currently active - No worries though!
Another auction starts on June 4, 2022, 8:00 pm (UTC). Add it to your Google Calendar!